Adjustment for Load. The chief objection to most rear suspension systems is that they are a compromise and tend to be harder than is comfortable for a light rider solo, or too lightly sprung to carry two heavy persons over rough roads without bottoming. On the Velocette this difficulty is overcome in a manner which is unique in motor-cycle design and the springing is adjustable for load within fairly wide limits in a few moments.
The Patented adjustment is shown in the lightest (solo) position on page 68, and it will be noted that the top mountings of the suspension units are set as far forward as possible in the arcuate slots in the frame lugs.
To adjust to carry a heavier load loosen the pivot bolts—one at each side—and move them back along the slots until the desired position has been found.
Each unit must be moved the same amount so that they are kept in line parallel to the wheel spindle. The full back position may only be needed for very heavy loads. Any intermediate position may be used provided the pivot bolts are kept in line.
Maintenance. Periodically grease the trunnion beading at the front end of the swinging fork—every 1,000 miles. The greasers are situated one at each side underneath the frame trunnion lug. If possible allow the rear wheel to hang clear of the floor when injecting grease so that the grease can Penetrate between surfaces normally in contact.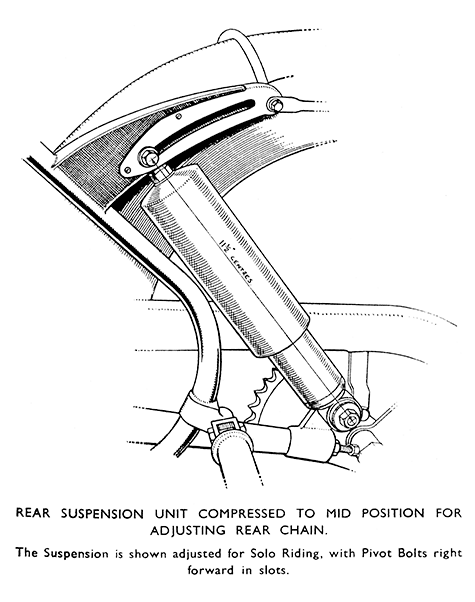 The suspension units are of welded up construction and cannot be taken apart except for the renewal of the springs should this be needed. The oil used for lubrication and damping is contained in the welded up portions and does not need changing or replenishing.
Only external cleaning is required.
The pivot bushes which are of rubber are renewable and may need very occasional replacement. See Service Manual.
Warning. Do not slacken the torque tube clamp bolts or attempt to dismantle the torque tube assemblies from the trunnion shaft. Special equipment is used to assemble them and the work should not be undertaken without reference to the Service Manual.